BCAA/EAA + Electrolyte drink mix (25 Serving tub)
75% of adults in the US are chronically dehydrated, let's keep you from being one of them with this new, delicious, hydration beverage. Our BCAA + just got an upgrade.  We've added all essential amino acids and L-glutamine to support recovery and reduce muscle soreness during and after your workout plus it's got the perfect mix of Electrolytes to support proper hydration.
Get more bang for your buck with Upper Limit's 3-In-1 BCAA/EAA + Electrolytes mix.  An even more robust formula with more essential aminos and electrolytes, L-Glutamine, coconut water, and an unbeatable flavor

We know you're busy, that's why we combined three workout must-haves into 1 delicious supplement.  At Upper Limit we don't skimp on quality or flavor and this time around we're giving you the best tasting BCAA/EAAs we've ever seen to help promote muscle protein synthesis + coconut water and electrolytes for optimal hydration to help you power through your workouts, burn fat more efficiently, recover faster, and avoid a crash no matter how intense your workout.  
It's so freaking good.
Recommended Use:
BCAA/EAAs are best taken intra-workout.  Add 1 scoop of BCAA/EAA + powder to 18 -24 ounces of water during or after a workout to maximize performance and muscle synthesis.  Since this contains no caffeine it's a great substitute for a pre-workout if you're hitting the gym in the evening.  Can also be beneficial post-workout to recover lost electrolytes and feel your best. 
Can be taken on an empty stomach, but test tolerance first and take with food if needed.
FDA Disclaimer: *This statement has not been evaluated by the Food and Drug Administration. This product is not intended to diagnose, treat, cure, or prevent any disease.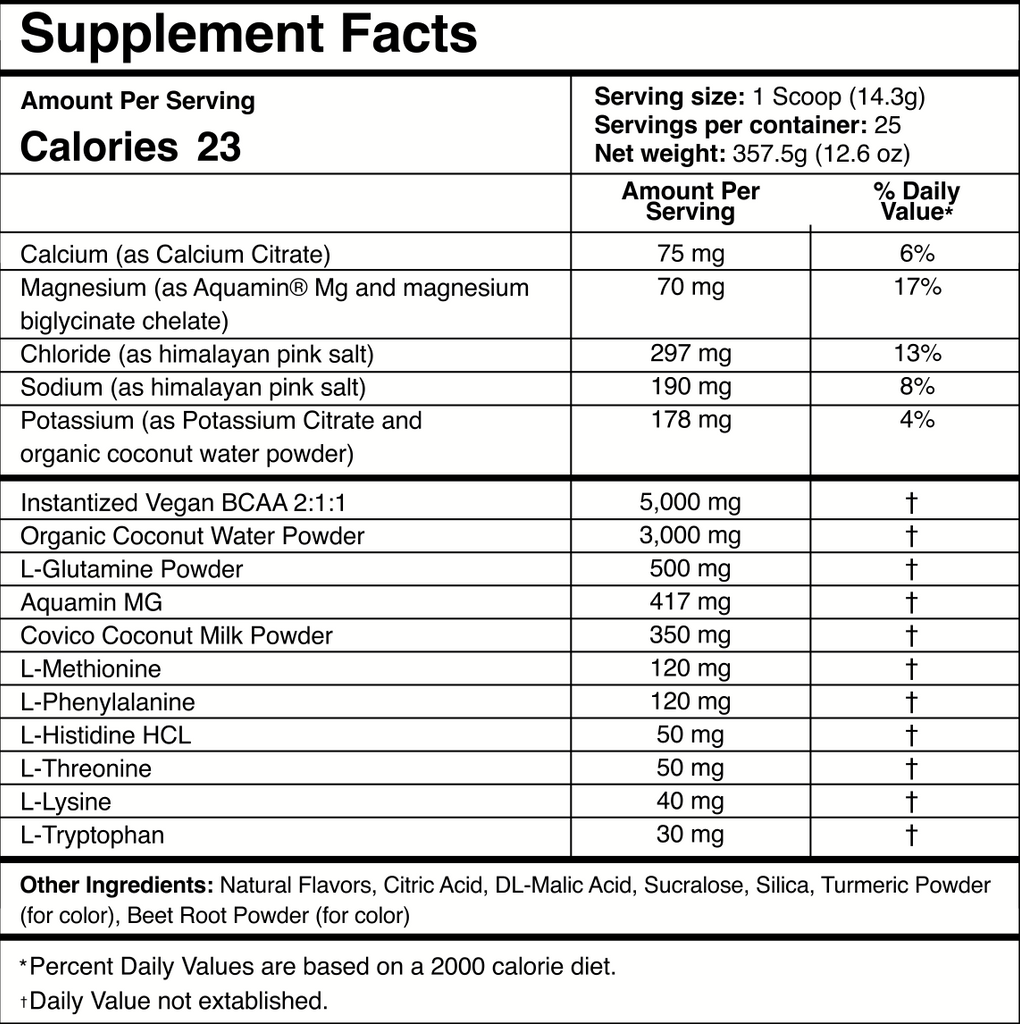 BCAA/EAA + Electrolytes Benefits
More than just refreshment, find out why this beverage is a game-changer for hydration, endurance, and recovery
Shop Now
BCAAs
Branched-chain amino acids that aid in building lean muscle
EAAs
Build vital proteins in the body while optimizing liver function and neurotransmitters in the brain
L-Glutamine
After hard workouts this amino acid becomes depleted and often needs supplementation to get back to optimal levels to build protein more efficiently.
Coconut water
Aids in hydration. Supports heart health and blood pressure. Extremely beneficial after long exercise
Aquamin
Algae derived mineral source rich in calcium and magnesium. Aids in bone and digestive health
Electrolytes
You don't just sweat water, you sweat minerals and replacing them is vital to performance and recovery. Helps trigger muscle contraction and creates fluid balance to reduce post workout crash and aids in effective hydration
Real Customers.
Real Reviews.