BCAA + Electrolyte drink mix (20 Serving tub)
Get more bang for your buck with Upper Limit's 2-In-1 BCAA + Electrolytes mix.  New updated version with more essential electrolytes and even better flavor
We know you're busy, that's why we combined two workout must-haves into 1 delicious supplement.  At Upper Limit we don't skimp on quality or flavor and this time around we're giving you the best tasting BCAA we've ever seen to help promote muscle protein synthesis + coconut water and electrolytes for optimal hydration to help you power through your workouts, burn fat more efficiently, recover faster, and avoid a crash no matter how intense your workout.
It's so freaking good.
Recommended Use:
BCAA's are best taken intra-workout.  Add 1 scoop of BCAA + powder to 18-24 ounces of water during or after a workout to maximize performance and muscle synthesis.  Since this contains no caffeine it's a great substitute for a pre-workout if you're hitting the gym in the evening. 
Can be taken on an empty stomach, but test tolerance first and take with food if needed.
FDA Disclaimer: *This statement has not been evaluated by the Food and Drug Administration. This product is not intended to diagnose, treat, cure, or prevent any disease.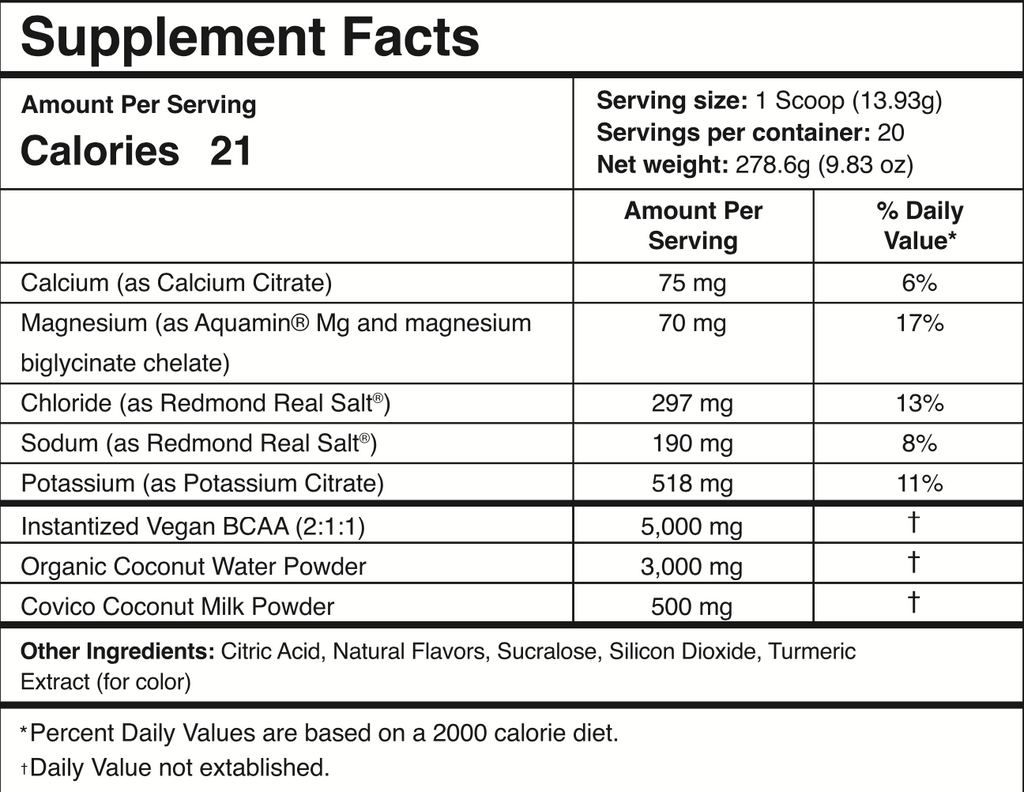 BCAAs
Branched-Chain Amino Acids that aid in building lean muscle
Aquamin
Algae derived mineral source rich in calcium and magnesium. Aids in bone and digestive health
Coconut Water
Aids in hydration. Supports heart health and blood pressure. Extremely beneficial after long exercise
Potassium
Crucial for regulating fluid balance, muscle contraction, and nerve signals. May help reduce blood pressure and water retention
Coconut Milk
Anti-inflammatory properties. Benefits immune system, promotes healthy skin and hair, may help prevent heart disease
Electrolytes
Helps trigger muscle contraction and creates fluid balance to reduce post workout crash and aids in effective hydration
Real Customers.
Real Reviews.